【案内】特別講演会「The Many Faces of Chaos」(講師:James A. Yorke、日時:2019年10月29日15:30~16:30)
第10回「知の創発」研究拠点プロジェクト研究会 特別講演会
The Many Faces of Chaos
【日時】2019年10月29日(火)15:30~16:30
【場所】創発学術院(16号館10階)
【講師】James A. Yorke
(Distinguished University Research Professor of Mathematics and Physics, University of Maryland)
【概要】"The Many Faces of Chaos"
Scientists were probably the last people to find out about chaos. Everyone knows our lives are all chaotic: predictable in the very short run and unpredictable in the long run. Chaos is an area of science and mathematics that describes situations in which small changes can cascade into larger and larger long-term effects.
Meteorologist Edward Lorenz, one of the founders of chaos theory, suggested in 1972 that the flap of a butterfly's wings in Brazil might set off a tornado in Texas, implying that we can never know all the factors that determine our weather. At best we can only predict the details of the weather a few days ahead.
Chaos is a concept with many facets or aspects. It has several definitions that emphasize different aspects of chaos. No definition is complete. My talk will illustrate how focusing on different aspects of chaos leads us in different directions and results in a fuller understanding of chaos.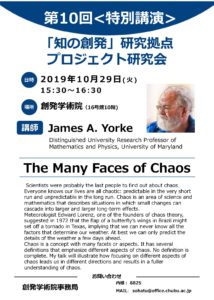 ---
Biographical Information
A.B., Columbia University 1963;
James Yorke has been at the University of Maryland since 1963.
Ph.D. in Mathematics: University of Maryland at College Park 1966.
Currently: Distinguished University Research Professor of Mathematics and Physics, Univ. of Maryland, College Park, MD, USA.
James Yorke is perhaps best known for coining the mathematical term chaos in his 1975 paper with Tien-Yien Li "Period Three Implies Chaos". He came to the University of Maryland as a math graduate student in 1963 hoping to explore interdisciplinary mathematics. Those hopes were fully realized after he received his Ph.D. and joined the faculty of the University of Maryland. He feels that a Ph.D. in mathematics is a license to investigate the universe.
In 2003 he was awarded the Japan Prize jointly with Benoit Mandelbrot for their work in chaos and fractals in a ceremony presided over by the Emperor of Japan.