ABOUT US
About Chubu University Academy of Emerging Sciences
Chubu University celebrated its 50 the anniversary in 2014 and the school has entered a new era of prosperity. We completed the project of "the path to a comprehensive university" and have initiated a new project to promote university reform aimed at becoming "an open and world-class sustainable university". As part of the project, Chubu University Academy of Emerging Sciences (CUAES) has been launched with the goal of enhancing emergence of new academic disciplines. CUAES provides a place to promote advanced research and is open to researchers both inside and outside the university. The goal is to explore and disseminate new academic disciplines beyond existing research areas through collaboration among outstanding researchers both inside and outside Chubu University. About one year before its launch, with the aid of Professor Tetsuro Matuzawa of Kyoto University, President Juichi Yamagiwa of Kyoto University and Chancellor Atsuo Iiyoshi of Chubu University discussed to explore a new style of collaboration between these two universities. As a result of the discussion, Chubu University decided to establish CUAES as the counterpart of Kyoto University Institute for Advanced Study (KUIAS). On April 1 in 2016, each organization was launched as "a special district under the direct supervisor of the President/Chancellor" (KUIAS Director: Professor Shigefumi Mori, CUAES Director: Chancellor Atsuo Iiyoshi). At the opening ceremony of CUAES at Chubu University on June 2, CUAES and KUIAS officially concluded the agreement of academic exchange.
"Emerging" or "emergence" is a term commonly used in physics and biology. It means a process where the aggregation of elements produce a novel property, which can't be explained by the simple sum of attributes of elements. It also indicates a phenomenon or status where advanced and complex order/system surpassing each element's attribute arises as a result of accumulation and systematization of each autonomous element. Autonomous element can be interpreted as "individual researcher", and advanced and complex orders/systems as "new academic disciplines". CUAES represents "an advanced research organization for international collaborations and exploratory emerging sciences". In the spirit of Chubu University's slogan, "Acta, Non Verva", we aim to forward emergence of new academic disciplines. For that purpose, outstanding researchers both inside and outside Chubu University will assemble to explore and disseminate new area of research beyond existing research fields.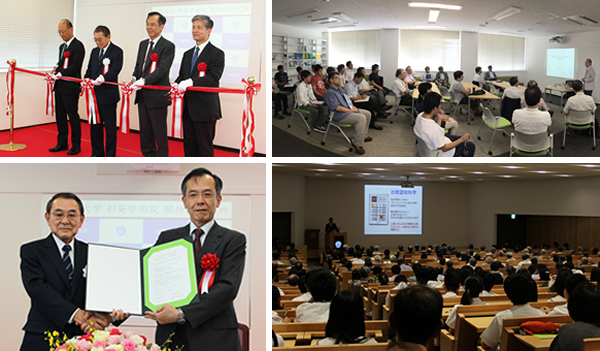 CUAES Members
The brief introduction of each CUAES member and his/her specialized research fields are as follows (For more detailed information, please click on each name).
Director:
<Atsuo Iiyoshi>
Specialized in Physics, especially Plasma Science and Engineering.
Coordinators/Distinguished Visiting Professors:
<Tetsuro Matsuzawa>
Famous worldwide for his outstanding works in a series of laboratory studies called "Ai Project" and field studies in Africa. Selected as a "Persons of Cultural Merit" of Japan.
<Shigefumi Mori>
A world-leading mathematician specialized in Algebraic Geometry, especially Birational Geometry
Famous as the Fields Medalist (Note: The Fields Medal is known as the mathematician's "Nobel Prize") and President of the International Mathematical Union (the first head of the group from East Asia)
Chubu University Professors:
<Hisashi Yamamoto> Specialized in Synthetic Organic Chemistry and Catalytic Chemistry
<Takaho Ando> Specialized in History of Social Thoughts
<Hiromichi Fukui> Specialized in Global Environmental Studies
Visiting Professor:
<Ichiro Tsuda> Specialized in Complex Systems of Brains
CUAES Faculty Members:
<Ikki Matsuda> Specialized in Ecology, and conducting various researches on primates living in the rainforests
<Hiroko Kuwahata> Specialized in Comparative Developmental Science, especially development of face recognition in primates.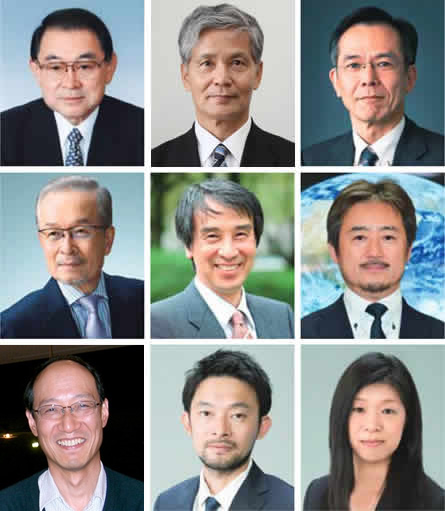 CUAES Members
From top left: Atsuo Iiyoshi (CUAES Director); Tetsuro Matsuzawa and Shigefumi Mori
(CUAES Coordinators/Distinguished Visiting Professors)
From middle left: Hisashi Yamamoto, Takaho Ando, Hiromichi Fukui
(Chubu University Professors)
From bottom left: Ichiro Tsuda (Visiting Professor); Ikki Matsuda, Hiroko Kuwahata
(CUAES Faculty Members)
CUAES Activities
University is a place of learning. We believe that conducting outstanding research is the best way to educate its students. For that purpose, we regularly hold a CUAES seminar, which promotes an exchange of views among students/researchers specialized in diverse research fields. We welcome spontaneous participation of students/researchers inside and outside Chubu University. Through those seminars, CUAES provides an opportunity for those who have a real desire to learn to experience cutting-edge research outcomes and to get involved in the emergence of new academic disciplines. We also plan to host a "CUAES Symposium" as a tangible contribution to people inside and outside the university.
We also focus on building an infrastructure so that students/researchers from different organizations (i.e., private university and national university) can interact more freely. In order to collaborate with KUIAS, a research hub of domestic and international wisdoms, and to create a mutually beneficial relationship, CUAES and KUIAS agree to establish a connection of friendship and cooperation. The agreement enables 1) personnel exchange of researchers and faculty members, 2) information exchange regarding advanced research and international collaborations, and 3) joint research projects and educational/cultural programs. We are also aimed at building a domestic/international collaborative partnership with other organizations with the goal of emergence of new research areas across existing academic disciplines.